As a special treat for our casual game fans, we are announcing a limited time giveaway! Youda Survivor is absolutely FREE on ALL platforms from May 30th through June 5th.
Hurry to snag this absorbing game during the weeklong giveaway.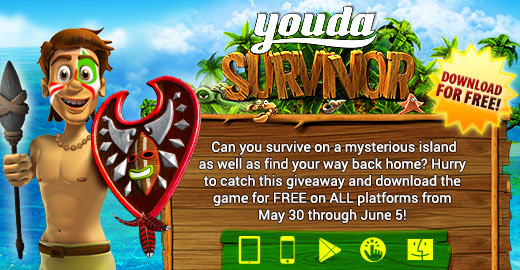 Can you survive on a mysterious island as well as find your way back home? Try it out in Youda Survivor! Here is your chance to become a real Robinson Crusoe. You will have to win over the hearts and minds of the native tribe by proving that you are the one person that can save them from cunning pirates. Obtain mystical tribal items with magical powers; learn rituals that you can use to control the weather; and employ special machines to advance in your quest. Learn the secrets of tribal diets and boil powerful potions to make you stronger. Show that you have what it takes to survive anywhere and under any circumstances.
Key Features:
80 amazing levels on a deserted island
Five extra powers: rain, wind, lightning, birds and monkeys
11 exotic animals to encounter
Fast-paced action and exciting adventures
Upgrades, bonuses and awards
When to expect this game?
Starting today, May 30th, through June 5th, 2016
Where to download this game?
Apple App Store:
Youda Survivor for iPhone
Youda Survivor for iPad
Google Play:
Youda Survivor
Amazon Appstore:
Youda Survivor
About G5 Entertainment
G5 Entertainment AB (G5) is a developer and publisher of high quality free-to-play mobile games for iOS, Android, Kindle Fire, and Windows-powered devices. G5 develops and publishes games that are family-friendly, easy to learn, and targeted at the widest audience of experienced and novice players. G5's portfolio includes a number of popular games like Mahjong Journey®, Supermarket Mania® Journey, Farm Life™, Virtual City®, Special Enquiry Detail®, Hidden City®, and The Secret Society®. G5 Entertainment AB has been listed on Nasdaq Stockholm since 2014.
More information about the company can be found at: www.g5e.se/corporate.